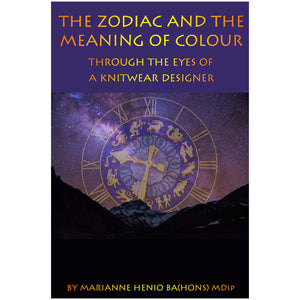 Knitting Utopia
The Zodiac and the Meaning of Colour
Regular price
£4.99
£0.00
Unit price
per
Through the Eyes of a Knitwear Designer
Following the Zodiac series that I had the pleasure of writing for Machine Knitting Monthly, I have published this little book as a culmination of all the articles. I explore each of the birth signs and their corresponding colours. Then delving into the psychology of these colours, I have elaborated on how we can use them to enhance our lives. The book is illustrated with my designs throughout to give examples of how we can get the most out of the colours of nature.
Colour truly plays a vital role in the world in which we exist. It can have an impact on our thinking, can change our actions, and it can cause reactions. It can have physiological effects; irritating or soothing the eye, raising blood pressure, suppressing appetite!  Colour can also cause powerful reactions when used for a product; much thought is put into colour by product designers and marketers.
In the world of fashion, colours play a huge role in influencing our choice of purchases. Each season brings out a new colour on the catwalks and 'street style' follows suit. We are aware of what is the latest fashionable colour to wear, whether we chose to wear it or not. As knitters we are in the privileged position to choose what style we knit as well as the colour. We are not bound by high street trends! This little book is Entertaining, informative, and very useful!
Instant Download
Your files will be available to download once payment is confirmed.
We don't accept returns, exchanges or cancellations, but please contact us at hello@knittingutopia.com if you have any problems with your order.
---