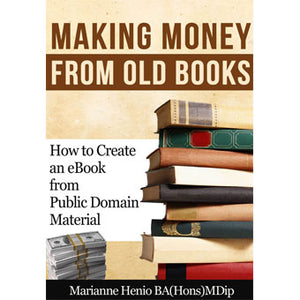 Knitting Utopia
Making Money from Old Books
Regular price
£3.99
£0.00
Unit price
per
How to Create an eBook from Public Domain Material 
Did you know?...
...you had access to an infinite source of content that has been created by geniuses? The Public Domain consists of an unlimited amount of proven material created by visionaries, artists, poets, writers, leaders and innovators in all the possible fields of expertise? It is the most powerful business content building tool.
YOU have FREE ACCESS to written and artistic content for product creation which already has a successful history. It has been edited, approved and published, read and re-read by endless numbers of folks just like you and me. The Public Domain has proved its worth in PROFIT over and over.
Would you like to:-
Build a business publishing books which have a proven sales track record?
Republish old classics with your own added stamp to capture the interest of a new audience?
Have access to an unlimited source of material to piece together and create your own original ebook?
Produce ebooks that are both correctly edited, formatted and clearly readable making them professional, enjoyable and SALEABLE?
Illustrate your ebook with pictures and photographs without paying any royalties?
Take advantage of untapped niches in the marketplace with little competition?
Work from home online with an unlimited earning potential?
Create multiple income streams that grow daily to FULFIL YOUR DREAMS?
If your answer is yes to any of these questions then the Public Domain could be your answer to developing a highly profitable business, so read on...
I went about it the hard way! I spent months learning the 'ins' and 'outs' of the Public Domain, Copyright Law, how to find profitable niches online.
The key to the success of using Public Domain information is to creatively build upon existing works to enlighten a new audience.
With some fresh ideas, and using this ebook, anyone can do what I have done and ...
MAKE MONEY!!!
Instant Download
Your files will be available to download once payment is confirmed.
We don't accept returns, exchanges or cancellations, but please contact us at hello@knittingutopia.com if you have any problems with your order.
---