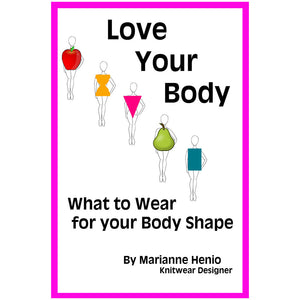 Knitting Utopia
Love Your Body
Regular price
£4.99
£0.00
Unit price
per
What to Wear for your Body Shape

Following the Body Shape series that I had the pleasure of writing for Machine Knitting Monthly, I have published 'Love Your Body: What to Wear for your Body Shape' as a culmination of all the articles. I explore each of the five different body shapes and suggest what we can wear to enhance our figure. Wearing clothes that suit our body can have a profound effect on how we feel on a daily basis. Using examples of my knitwear designs I illustrate the tips and ideas put forward. Understanding your body proportions and dressing accordingly means that you're on to a winner!
The five body shapes discussed include:
The Apple Shape
The Rectangular Shape
The Hourglass Shape
The Pear Shape
The Inverted Triangle Shape
Each chapter suggests a number of styles that suit your figure and what you can wear in a mix and match way to get the very best out of your wardrobe. There are undoubtably items of clothing that get pushed to the back of your wardrobe because you don't know what to wear with them. And there are probably items in there still sporting their labels! Determine which shape you are and learn what to wear to feel the happiest you that you can be!
---