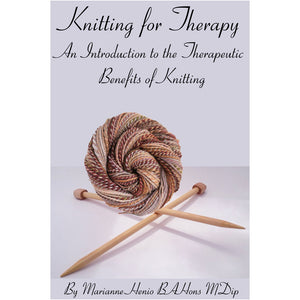 Knitting Utopia
Knitting for Therapy
Regular price
£3.99
£0.00
Unit price
per
⭐⭐⭐⭐⭐

"Just looking for info about this subject....hope it will help me to get both, the calm and the skill to knit. :-)"
MM
---------------
An Introduction to the Therapeutic Benefits of Knitting
This is a brief introduction to the therapeutic benefits of knitting. It has been known for a long time, and is widely appreciated, that the simple, rhythmic action of each knitted stitch gives a whole range of therapeutic benefits. The pleasure derived from working with colour and texture, and the sense of achievement and satisfaction gained from creating something new with our hands, is made possible simply with a pair of knitting needles and a ball of yarn, or indeed, at our knitting machines.
Knitting for Therapy delves into the research behind this subject, looks at areas that can be improved in our lives though this craft, and listens to the words of knitters out there who share some of their experiences.
The therapeutic benefits of this craft are numerous and include:-
Reduced stress and anxiety levels
An aid to alleviating depression
Chronic pain relief
Improved dexterity
Improved self esteem
Improving memory and preventing dementia
Overcoming social isolation
Breaking addiction
Improvement of behavioural problems
This book takes a look at these areas in more detail to give you an overview of the benefits of knitting. The words of the knitters who take part are both hand and machine knitters.
Instant Download
Your files will be available to download once payment is confirmed.
We don't accept returns, exchanges or cancellations, but please contact us at hello@knittingutopia.com if you have any problems with your order.
---