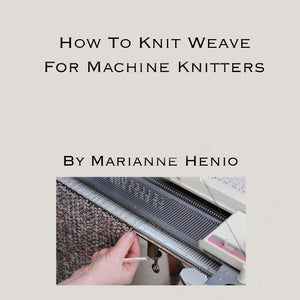 Knitting Utopia
How to Knit Weave
Regular price
£0.00
£0.00
Unit price
per
For Machine Knitters
In this tutorial I demonstrate how to knit weave on my standard gauge punch card knitting machine.
I show you how to set the buttons, knit in the knit weave technique, and increase and decrease at the edges as you shape your garment.
I've used this method with my Quantum Skirt, Henio Jacket 1, Bellissima Jacket, Henio Jacket 2 and Dress, and the Henio Coat.
I love knit weave and once you master it, you will fall for it too!
Just add the free video to your cart and checkout as normal. Save your download to a safe place. 
---